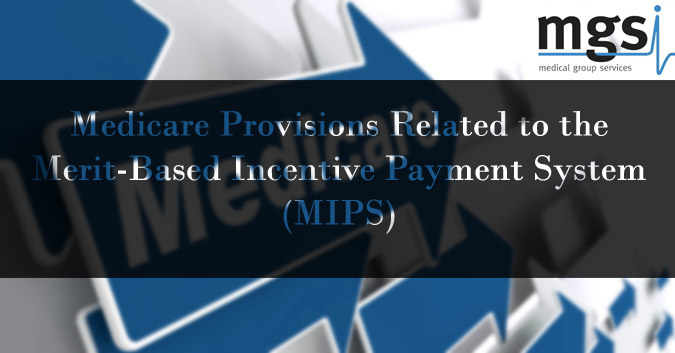 ARE YOU INFORMED ABOUT MIPS?
Medicare Provisions Related to the Merit-Based Incentive Payment System (MIPS)
The Quality Payment Program changes the way Medicare pays providers and offers financial incentives for providing high value care.
The maximum Negative adjustments for each year are:
2019 — 4%
2020 – 5%
2021 – 7%
2022 and after – 9%
The potential maximum adjustment percentage will increase each year from 2019 to 2022.
First performance year begins January 2017
Plans for the Quality Payment Program in 2017:  Which one will you Pick?
Per CMS website: The Quality Payment Program improves Medicare by helping physicians focus on care quality and the one thing that matters most- making patients healthier.  The Medicare Access and CHIP Re-authorization Act of 2015 (MACRA) ended the Sustainable Growth Rate formula, which threatened clinicians participating in Medicare with potential payment cliffs for 13 years. The Quality Payment Program's purpose is to provide new tolls and resources to help you give your patients the best possible care.  Physicians can choose how they want to participate based on practice size, specialty, location and patient population.
What is MIPS?
The Merit-Based Incentive Payment System (MIPS) will calculate bonuses or penalties across four programs.
MIPS provide clinicians the flexibility to choose the activities and measures that are most meaningful to their practice to demonstrate performance.
MIPS will subject providers who participate in Medicare Part B to a performance score based on four categories:
Quality- (60% for 2017)
Resource use- (0% for 2017)
Clinical practice improvement activities (CPIA) – (15% for 2017)
Advanced care information – renamed from Meaningful Use (25% for 2017)
This means the FFS (fee for service) Medicare payment module as we know it is no more and instead is being replaced with automatic increases.  Starting in 2019, this score/measurement will be used to adjust physician payments up or down by a designated percentage. The MIPS program is a consolidation of three pay-for-performance programs already in place and the addition of another.  Clinicians will be able to choose the measures on which they will be evaluated.
The three groups of providers who will be exempt from MIPS are:
Clinicians in their first year of participating in Medicare Part B
Clinicians billing Medicare part B up to $30,000 and providing care for up to 100 Part B patients per year or less than or equal to 100 Medicare patients.  In this week's press releasing announcing the final rule, CMS indicates that this means 32.5 percent of clinicians providing services to Medicare Part B recipient's will be exempt from MACRA.
Clinicians participating in the APMs (Advanced Payment Models) that qualifies for bonus payments.
Clinicians/providers may choose to either be scored on an individual-clinician/provider basis or as a group of clinicians/providers who are billing under the same tax id number (EIN).
MIPS will not apply to hospitals or facilities (ie. Skilled Nursing Facilities).
Option 1:   Test the Quality Payment Program
As long as you submit some data to the Quality Payment Program, including data after January 1, 2017, you will avoid a negative payment adjustment. This option is designed to ensure your system is working and you are prepared for more comprehensive participation in 2018 and 2019.
Option 2:   Participation For Part Of The Calendar Year
If you choose to submit Quality Payment Program information for a reduced number of days- your first performance period could begin after January 1, 2017 and you could still qualify for a small positive payment adjustment.  You can select from the list of quality measures available under the Quality Payment Program.
Option 3:  Full Calendar Year Participation
Practices that are ready on January 1, 2017, may choose to submit Quality Payment Program data for the full calendar year.  Therefore, your first performance period would begin on January 1, 2017.
Option 4:  Participation in an Advanced Alternative Payment Model
If you choose not to submit quality data, the law allows you to participate in the Quality Payment Program by joining an Advanced Alternative Payment Model (APMs).  If you receive enough of your Medicare payments or see enough of your Medicare patients through the (APMs) in 2017, you would qualify for a 5% incentive payment in 2019.
How it compares to PQRS?
Per CMS providers will report their PQRS and MIPS quality data in much the same way as in past years.  The most important change is once your reported data is received and reviewed, penalties or reimbursement incentives will not only on you reporting successfully, but how your reported score compares to other providers.
CMS Webinar on this payment program;
Webinar Details
Quality Payment Program Overview
Date: Wednesday, October 26, 2016
Time: 2:00 to 3:00 PM ET
Register: https://engage.vevent.com/rt/cms/index.jsp?seid=530
Niurka Moreno
Email:  nmoreno@mgsionline.com
About MGSI:
MGSI, a Florida-based Medical Billing Company with more than 24 years of experience in the healthcare domain. For more information, please call us on: 877-896-6474 .